Many people will use the excuse, "I would go vegan, but it's just so expensive," or "Where would I buy all those special vegan foods?" to avoid making the switch. To them, a plant-based vegan diet is somewhat of a luxury, only possible for the affluent or those embodying a 'hippy' disposition, who have no daily obligations other than to frolic through forests collecting baskets of berries and whatnot.
But the reality is that a plant-based diet can be the most convenient, accessible, and affordable dietary choice on the planet, providing not only great nutrition, but also accommodating life on a budget – it all depends on the choices that YOU make.
Here is your guide to eating healthy on a budget – vegan style:
1. Mock meats and cheese are not a must
Many people who recently turned vegan, and have yet to detach themselves from their old eating habits, will most likely struggle arduously to fill the gap in the meat-shaped hole that they perceive on their plate. While fake meats and cheese can be a fantastic aid to the transitioning vegan, these products can be on the pricey side.
For the little nutritional value within these pricey, fake meats and cheese, you could substitute a plethora of natural, protein-packed beans, lentils and other legumes, or home made cheese and home made milks, for a fraction of the price.
2. Get to know some beans!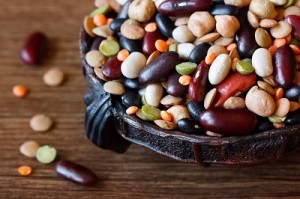 Legumes are wonderfully versatile and inexpensive and should definitely take a place of honour in the vegan kitchen. My personal favourites include mung, kidney, cannellini and best of all, the chickpea!
Buying dried beans is much cheaper and greener than buying tins of pre-soaked beans – a 500g bag will provide 5-6 servings – and all that is required is a soak overnight and a boil in water to restore them to a juicy state. As well as saving the pennies, and stocking up on the protein, by using dried beans you avoid artificial additives, sugar and preservatives that linger in tinned produce.
The added benefit is that you can get your creative cap on and enjoy experimenting with herbs and ingredients to create your very own mouthwatering unique sauces. Throw pre-soaked and boiled beans into a curry, a vegetable bake, veggie burger or salad, or make your very own bean dips and legume spreads at an unbelievably low cost. If you require the convenience of a tin (without the tin) you can make up a large batch and freeze (for a long period) or refrigerate (for a few days) individual portions to use throughout the week.
3. The less processed – the cheaper and healthier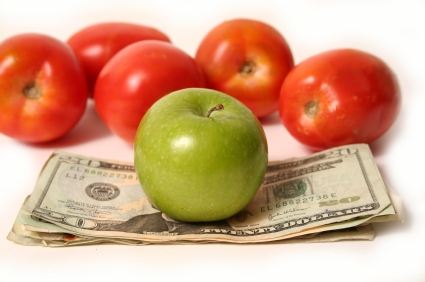 Fresh, whole foods are not only healthier, but they are substantially cheaper than ready meals. A dried bag of grains such as rice, oats, pasta, Quinoa or legumes can form the basis of many more meals for the whole family than a frozen, processed (and unhealthy) ready meal.
Similarly, fruits and vegetables are much more economical in terms of the number of meals that can be created from scratch , not to mention the versatility of said meals, whereas the lifespan and versatility of that microwaveable vegan lasagne leaves much to be desired.
4. Cut out the middleman
A trip to your local farmer's market will reveal the substantial difference in price between vegetables sourced directly from the farm vs. supermarket produce.
Don't feel like making the trip to your local farmer's market? Many farmers now offer a delivery service that allows you to order your fruit and veg online, and have them delivered to your home. Cutting out the middleman is a great way to support your local producers and save money too.
Those of you with some time on their hands, who would like to take self-sufficiency one step further, can grow their own – the cost of some seeds and soil, you will find, is very low. If you lack the garden space you'd be amazed at the variety of salad and herbs that can be grown on your windowsill, or if you have grander green-fingered aspirations a shared allotment is a great option for the urban gardener.
5. The raw-some approach
The raw diet is increasing in popularity worldwide, as conscientious eaters endeavour to pack their meals with as much of a nutritive punch as possible, but as well as gleaning the health benefits of eating fruits and veggies as nature intended, you will also be saving on gas and electricity costs!
I eat a big, raw salad most days for lunch and it is amazing how filling, satisfying and energy-packed it is, it even keeps hunger pangs at bay until teatime! Please note: the raw diet does not work with meat, unless you have the constitution of a feline.
6. Avoiding unnecessary items
Just because someone is vegan, does not mean they have to delight in gogi berries, indulge in speciality yogurts and/or chocolates, or purchase any other luxury item.You can enjoy a fantastic and versatile menu even if you stick with basic ingredients that are affordable and readily available.
Not sure what do with all these grains, legumes, nuts, seeds, fruits and veggies? There's lots of inspiration out there in the form of vegan cookbooks and vegan food blog guides.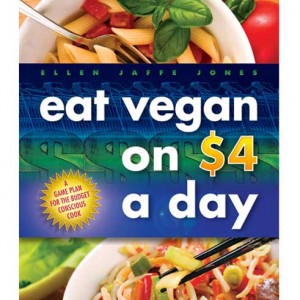 7. Recipe websites and books dedicated to eating vegan on a budget
For those seeking further support and advice on eating on a budgetthere is so much information available from vegans who have found the light and are bearing the torch for others. From websites such as Plant Based on a Budget to books like Eat Vegan on $4 a Day, and even Facebook pages and groups dedicated to the topic.
8. Convenience, compassion and common sense
Yes, a vegan meal eaten out in a restaurant is going to cost more than a burger in a fast food joint, but then again almost any meal eaten in a restaurant will cost more than a burger in a fast food joint.
You can't put a price on health, or compassion. The fact is low nutrition diets and fast foods are more affordable than ones based around healthy anything, not just vegan food! In other words everything that is of a better quality tends to be more costly, from lean cuts of organic meat and fish to products which the supermarkets label as their 'finest.' Alternatively, reconstituted animal carcasses in the shape of hot dogs, or other such questionably cheap supermarket meat products tend to be very easy on the wallet, but who knows what could be lurking in them?
Vegan food is fundamentally cheaper - it cost less to raise and sell vegetables and grains than it is to raise animals
Nevertheless, if we discount people who choose to live on chicken nuggets and French fries and focus instead on the cost of a weekly shop for a person who eats what is generally considered a balanced diet, the carnivores among us would actually turn out to be ones who are most out of pocket! A diet based around fresh produce, rice, pasta and legumes is much more affordable, since vegetables are far cheaper by the kilogram than meat.
The challenge
Now, I've stated my case, let's make it interesting. If you're one of those who are interested in following a vegan diet but have always been convinced that it's out of your budget, I'd encourage you to take my weekly challenge. Take your usual shopping budget and see how far it will stretch if you stick to plant based foods. If you follow the advice given here, you may be pleasantly surprised!
2013, by the vegan woman