Activist Photographs Ex-Lab Animals In Themed Photo Shoot, Helping Find New Homes
|
A number of rescued rabbits, guinea pigs and rats modeled in an 'Alice in Wonderland' photo shoot to find furr-ever homes.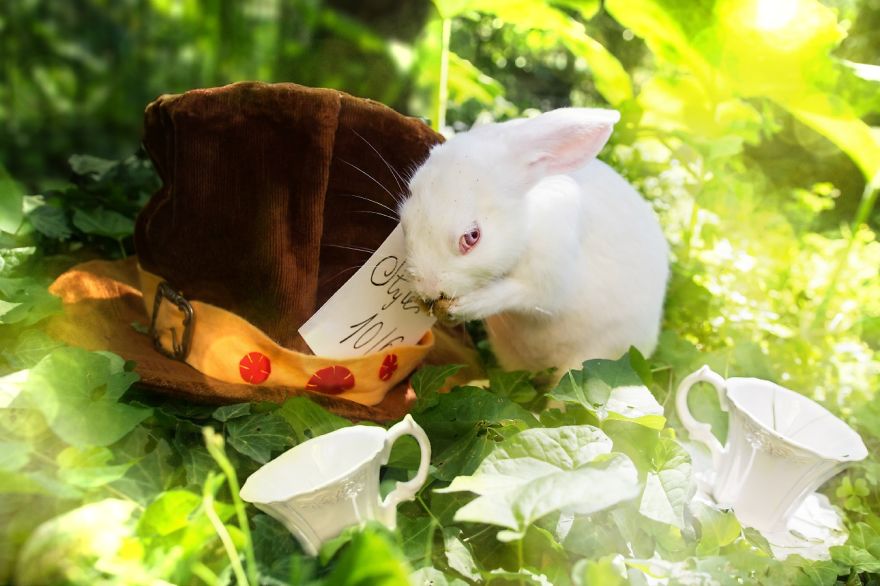 When Italian charity La Collina dei Conigli ONLUS rescued a number of rabbits, mice, rats, and guinea pigs from animal research labs, it became a necessity to capture their photos so they might find loving, furrever homes.
But if you're going to do something, why not go all out? With this thought in mind, the charity partnered with budding photographer Rachele Totaro to capture photos of all the animals set to the theme 'Alice and Wonderland' and, almost a year later, 'The Little Prince.' 
Both shoots were shared with Bored Panda with a personal summary by Totaro.
For the Alice in Wonderland shoot, the pictures were captured at the rescue center in Monza, near Milan during a September weekend in 2014.
"Mice were the most cooperative models, while guinea pigs were the laziest (they stayed still only with food present). Rats were the most attractive, and rabbits… were the most disapproving. Some of the pictures were used in the charity's 2015 calendar, which helps raise funds for hundreds and hundreds of rescued animal," recounted Rachele.
The same was true for 'The Little Prince' photo shoot, which featured some of the some of the 34 rabbits, 146 guinea pigs, 952 mice and 226 rats presently being cared for by the volunteers at La Collina.
For over 10 years, the charity's volunteers have rehabilitated hundreds of ex-lab animals, until the final, priceless step: adoption and a serene new life with a loving human family. Thankfully, only a small number of the animals rescued were from abandonment or severe neglect.
"Most of the rescues had been used in labs for painful tests and without volunteers would have been euthanized at the end study; Italian law allows registered charity to rescue and rehabilitate them, and that's what La Collina does."
You can learn more about the charity by visiting its Facebook page and website.  A number of animals are still waiting to be adopted, so get in touch with charity volunteers if you are interested in offering one of the beautiful models a new home!
Some of the adorable, themed photos from the Alice in Wonderland shoot follow:
Alice in Wonderland
The Cater Mouse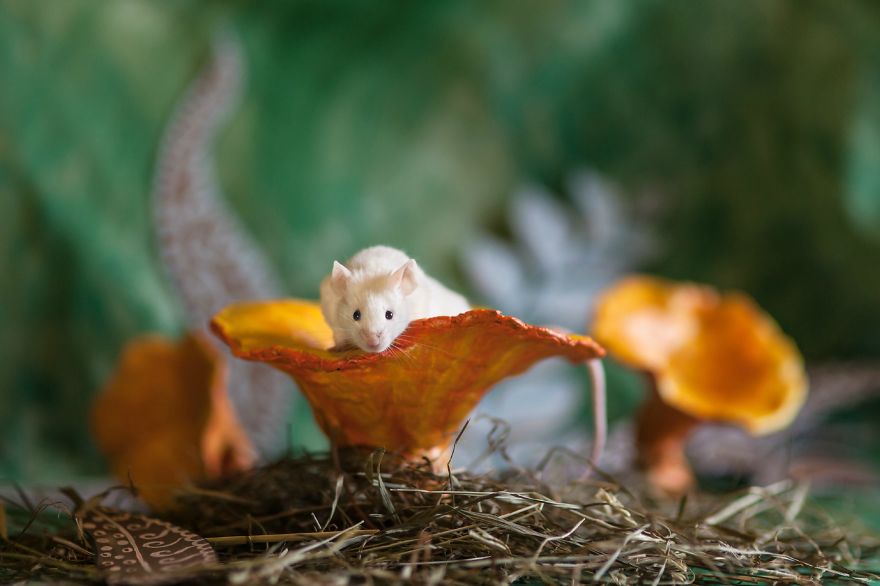 Giuseppe Rossi was rescued by the Italian charity together with dozens of other mice after their lab finished testing. If La Collina dei Conigli had not saved them, they would have been put to sleep.
The March Hare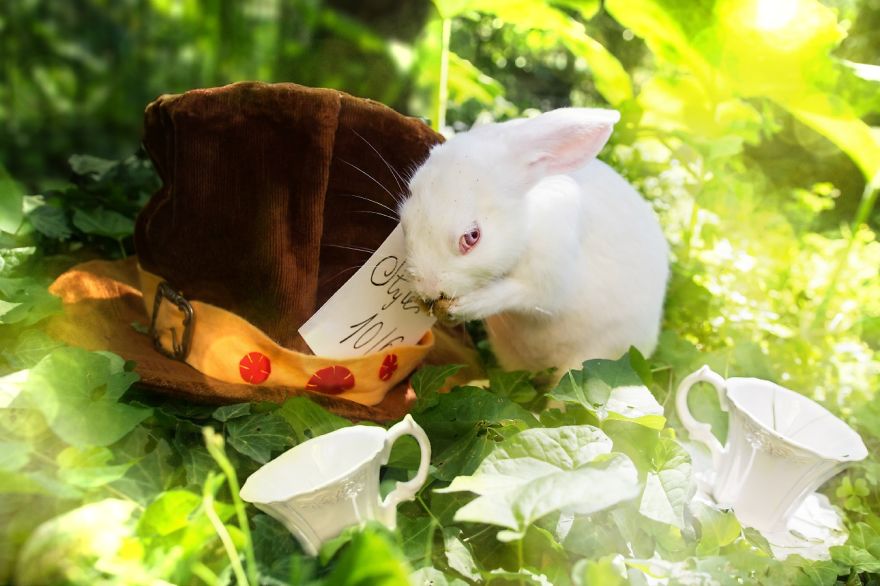 Indiana Jane is so tiny that she fell off a truck full of rabbits destined for the meat market. We guess that her mother and siblings were on that truck too.
The Dormouse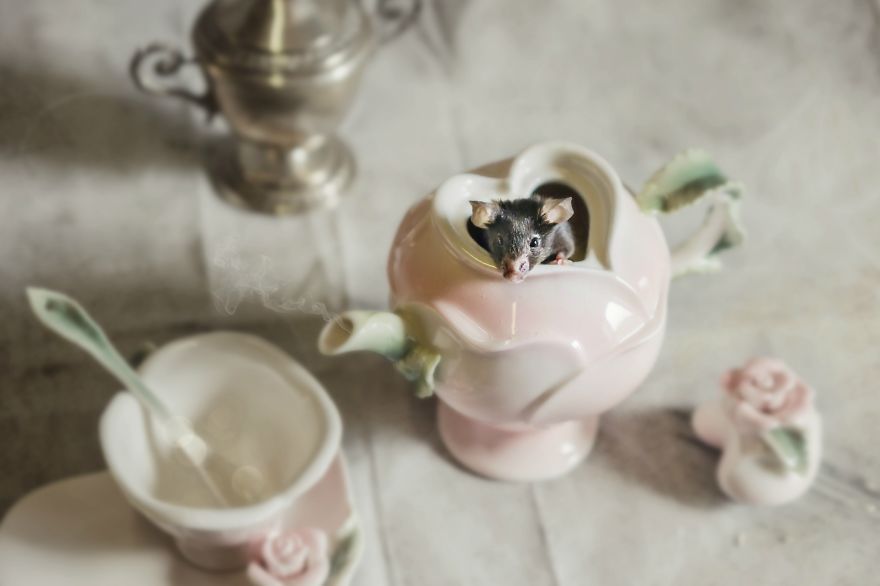 This little mouse was destined to become snake food.
Playing With Cards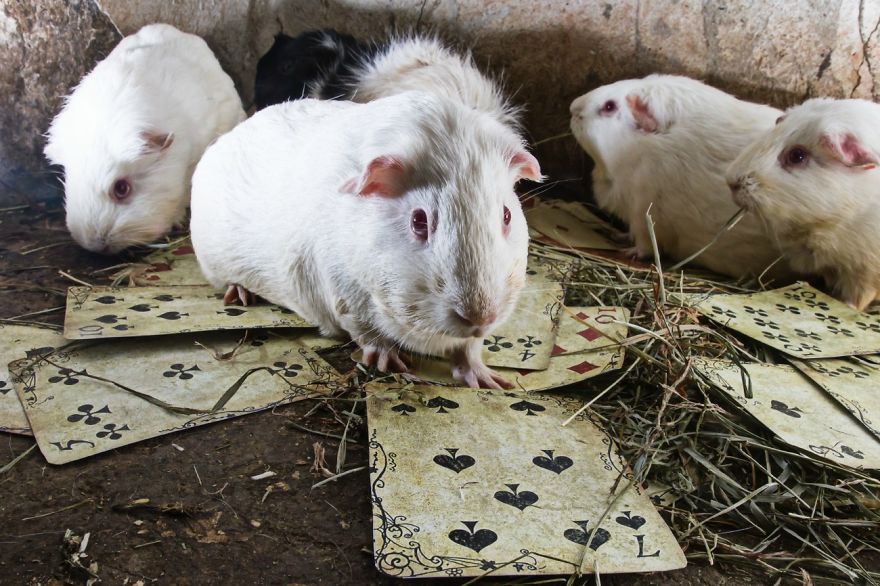 Guinea pigs are ready to play.
Through The Looking-Glass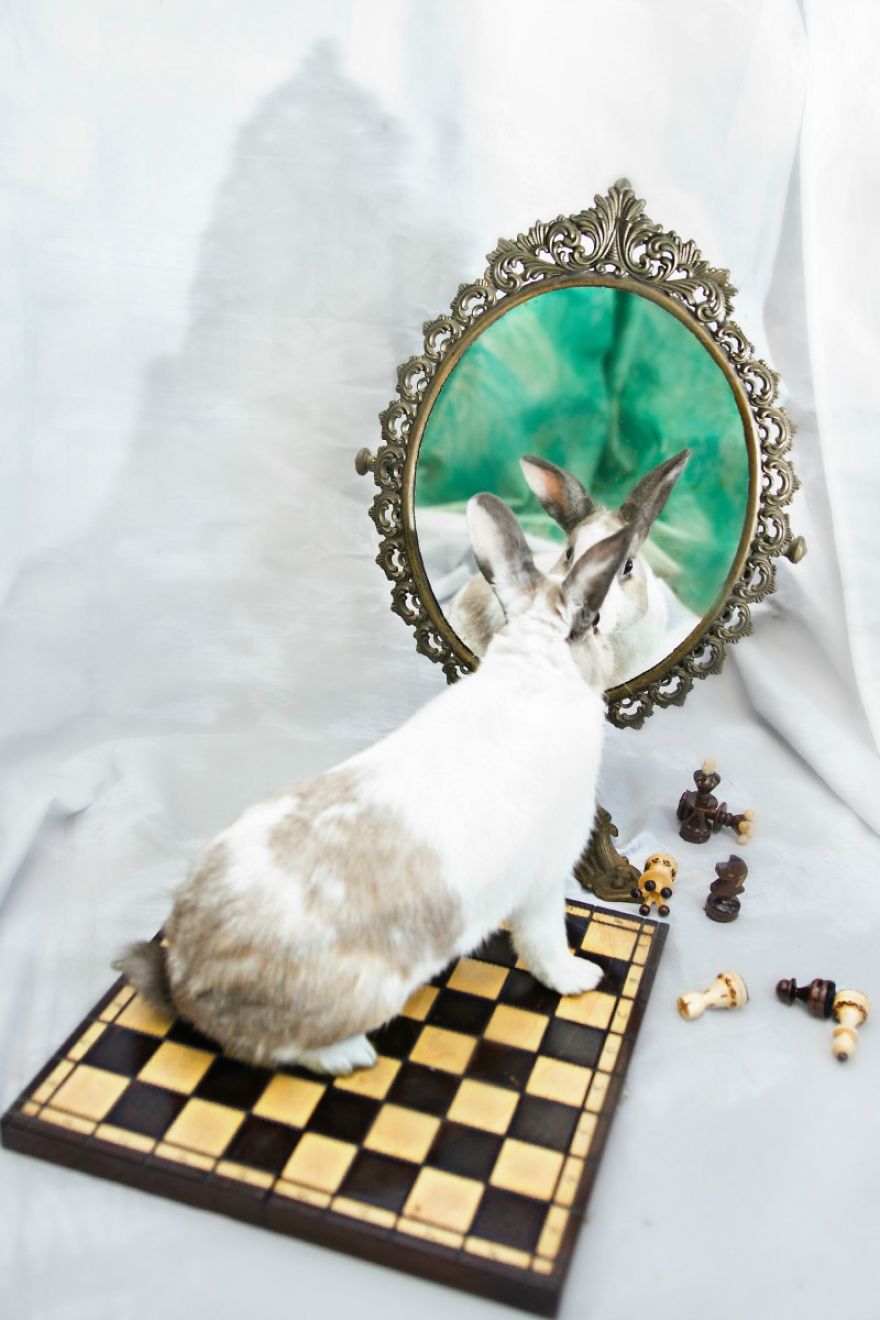 Pet rabbit Nilo was found abandoned, with rear legs paralyzed. Luckily, appropriate care and rehabilitation allowed him to stand and jump again.
Eat Me, Drink Me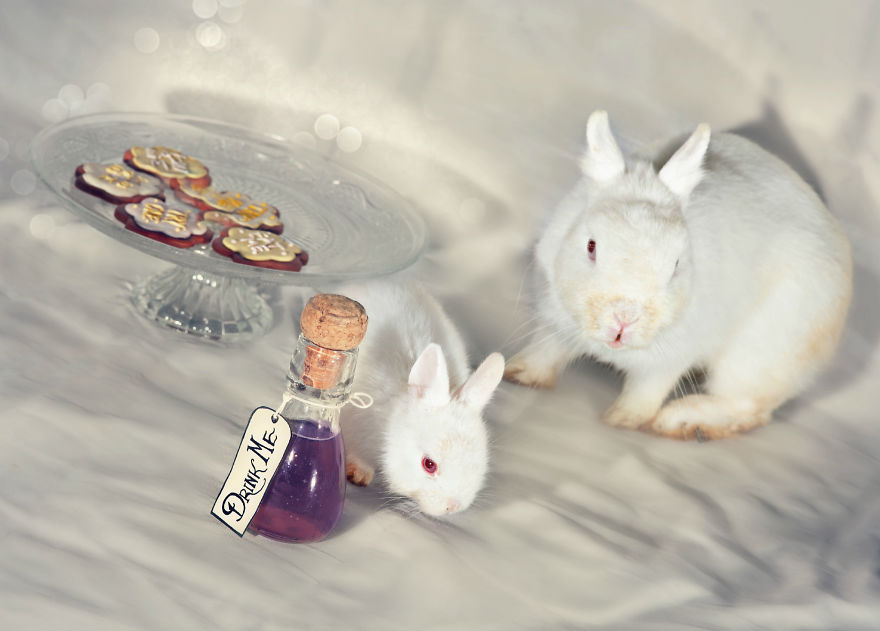 The White Rabbit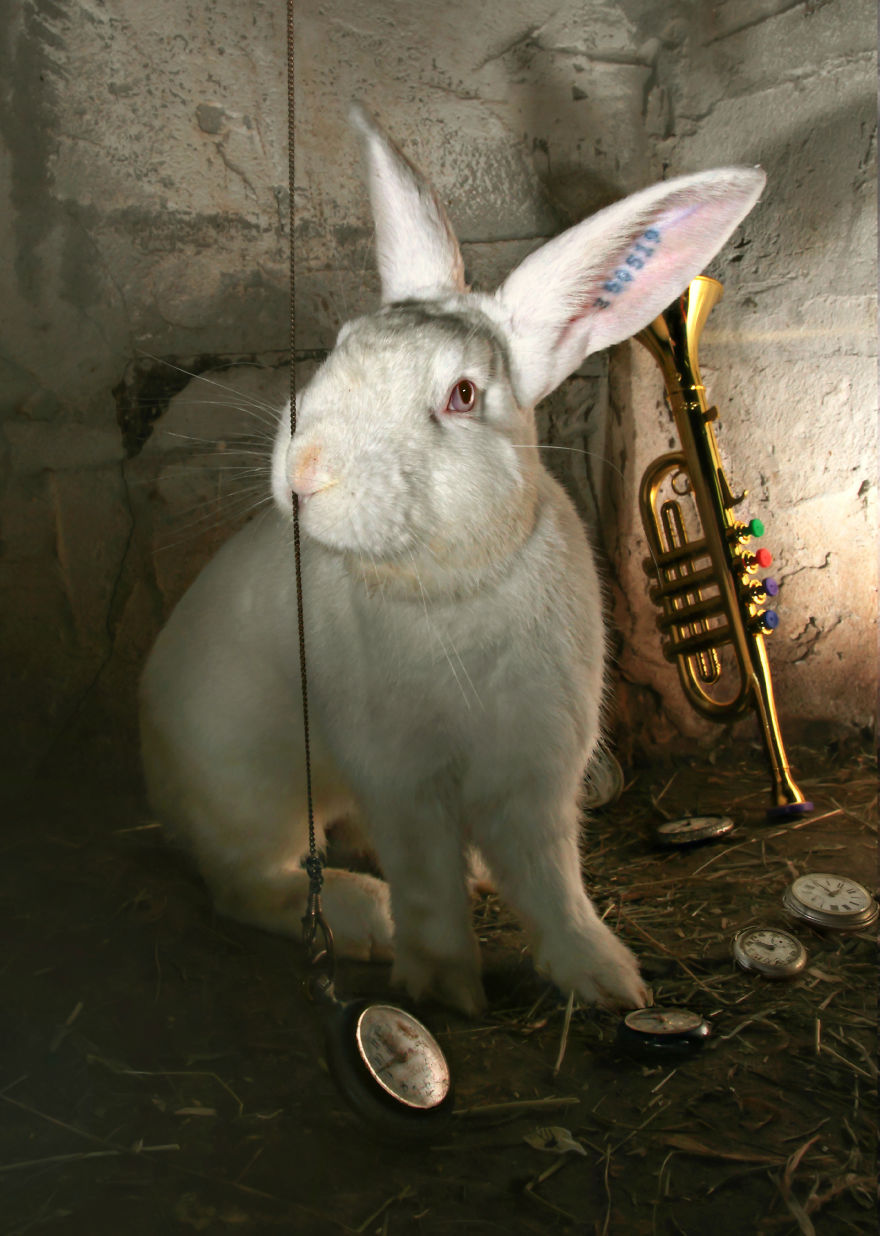 Console Marcello is a New Zealand rabbit used in lab testing, as you can guess from the number tattooed on his ear. He is still looking for a lovely home.
Cheshire Rats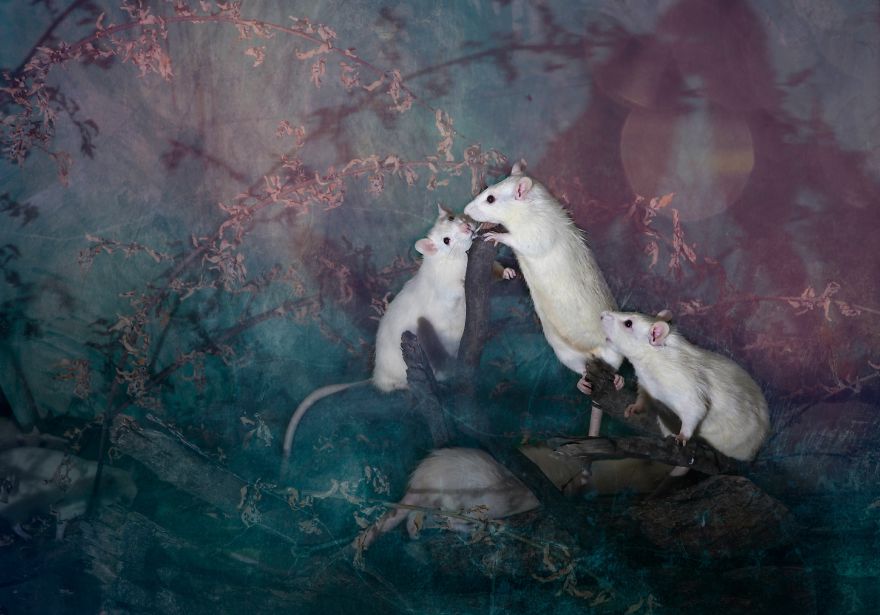 All of these rats were rescued after being used in lab tests.
The Queen Of Hearts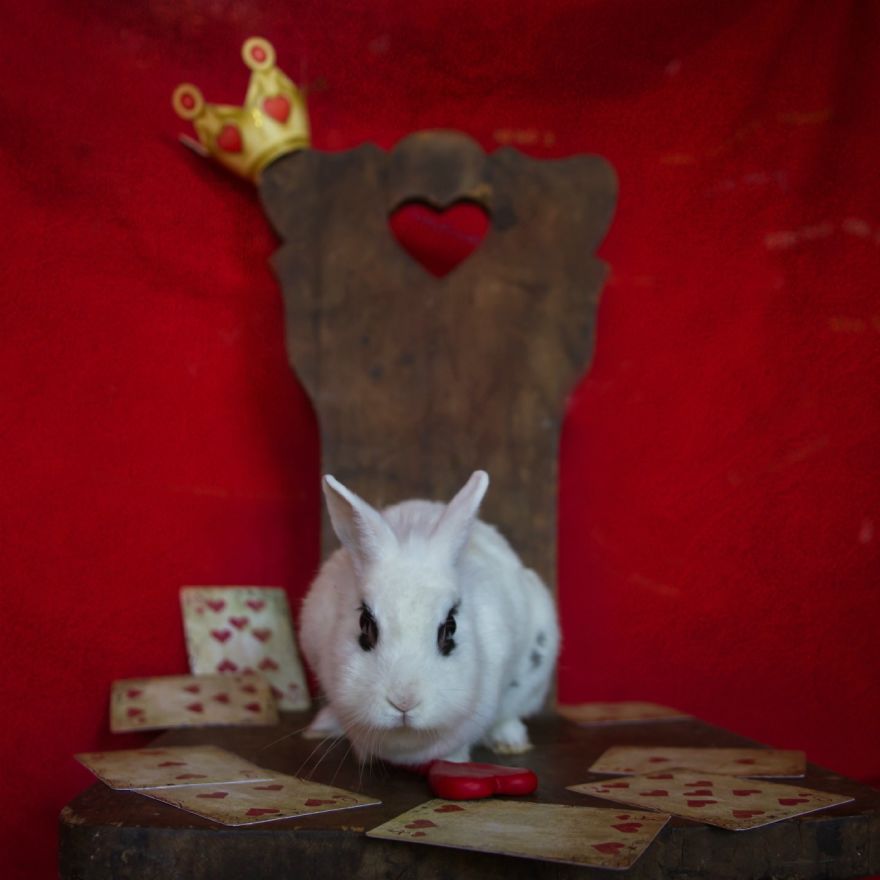 Her Majesty Neda. She was adopted right after the photo-shoot.
Gardener Corallo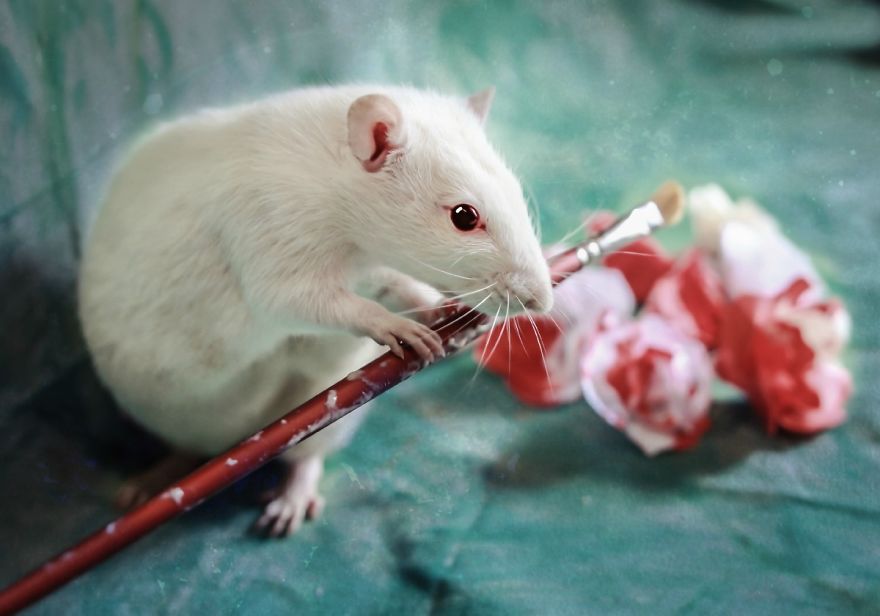 Did you know that rats are great painters? They're quite stylish, too!
Tweedledum and Tweedledee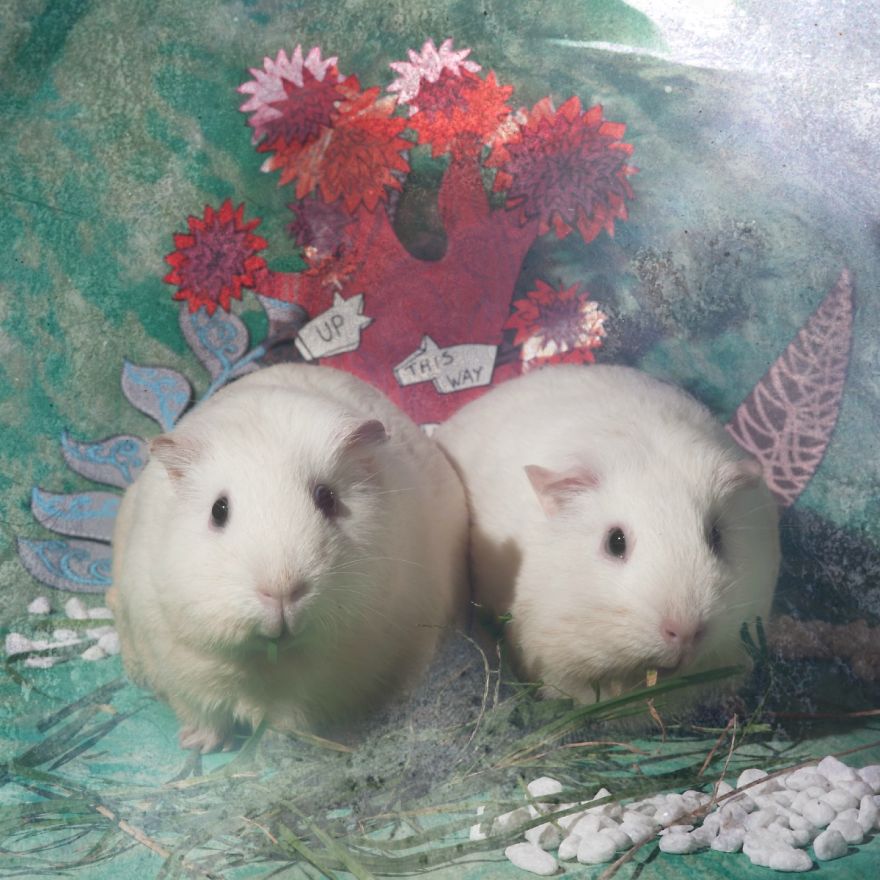 Apparently Guinea Pigs are great models; one just needs to give them food and everything will be alright.
Crazy Run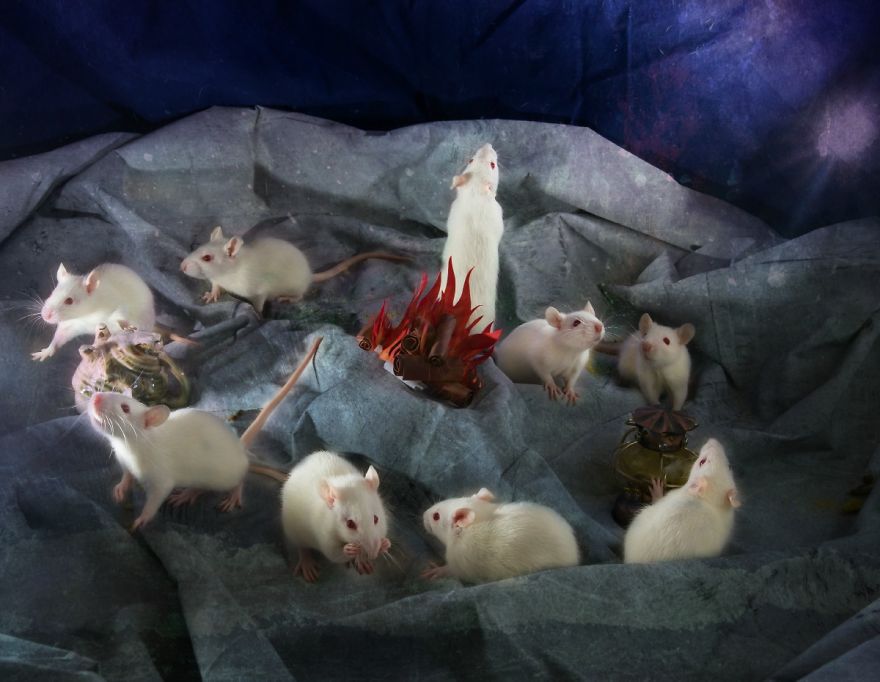 9 baby rat sisters running in circles. What could be cuter? 
Curiouser and Curiouser
The nose to kiss.
Painting Roses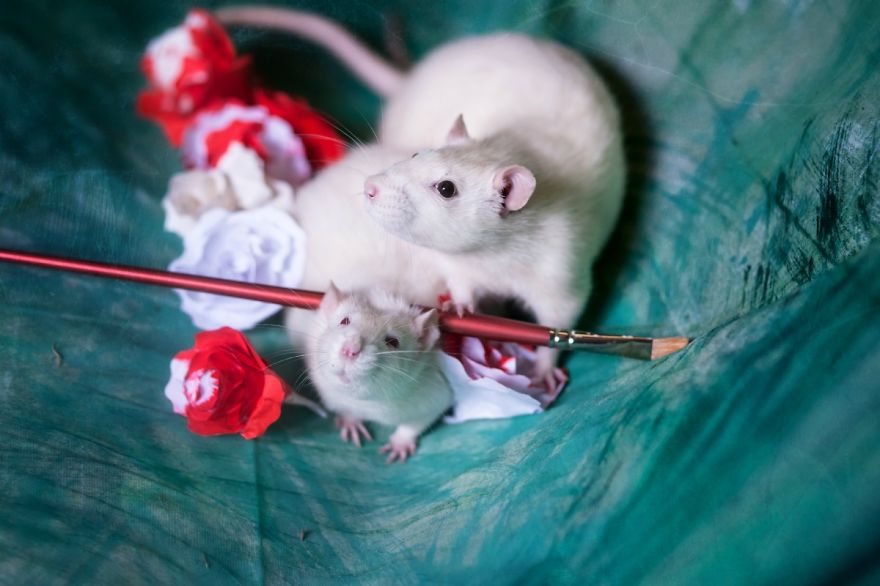 Rats are artists, too!
Check out the most recent photo shoot of rescued animals set to the theme of 'The Little Prince' here.
2015 by Amanda Froelich
Credit: Rachele Totaro