Biker Saves Abused Dog On Side Of Road, Gains A "Co-Pilot"
|
This biker was on a routine ride to meet up with his father, when he took a detour to rescue a little dog — and win a new riding buddy.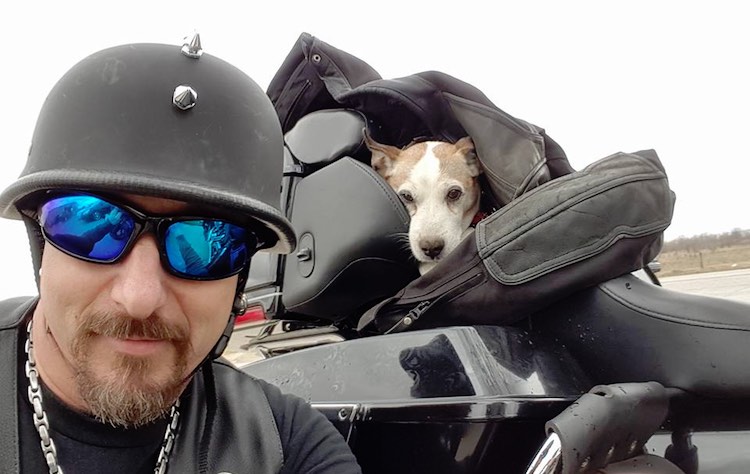 Brandon Turnbow noticed a truck stopped on the side of the road and it's driver beating a little, white and tan terrier-mix.
He watched the man throw the dog into the air and drive off.
Turnbow turned around, and found the dog, frightened and alone, standing about two feet off the edge of the busy highway.
Afraid the little guy would dart into traffic, Turnbow approached him slowly, and wrapped him up in his leather jacket to help him feel secure. He started the motorcycle and let it run for a little while so the dog could become accustomed to its sound and vibration.
When the dog was calm, and traffic died down, Turnbow pulled onto the road and met up with his father, also on a motorcycle, and together they drove 45 miles back to Turnbow's house taking the dog to eventual safety with the pup riding happily bundled on the seat behind.
At a four-way stop, the biker turned around to check on the pup. He was sitting on the seat, "like he has rode all his life," Turnbow wrote on his Facebook page.
"I now have a Co-pilot — Meet Mr. DAVIDSON," he wrote when posting the pictures and story.
More than 1,600 people have commented on his story, praising him for rescuing the pup.
"Bless you!" Pauline MacDermid posted in the comments. "You are a true hero and this pup has won the lottery."
2016 by Terry Turner